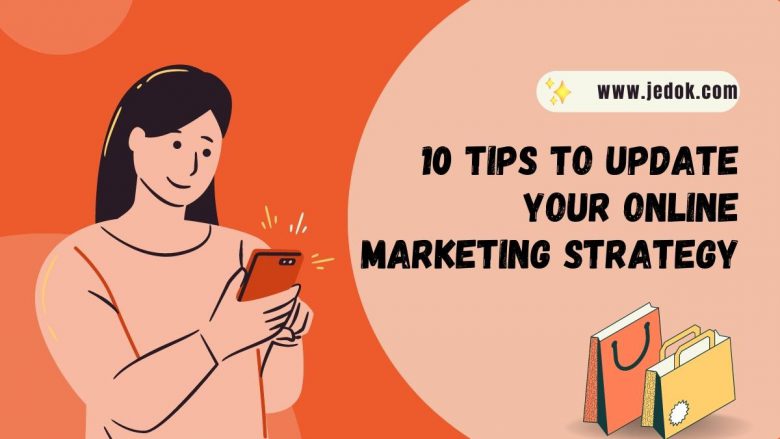 As the digital marketing landscape continues to evolve, businesses need to stay up-to-date and adopt new strategies to remain competitive. This article offers 10 tips that can help update your online marketing strategy and keep you ahead of the game. These tips cover a variety of areas, from content creation to social media management and website optimization. Read on for an overview of how to take your online marketing strategy to the next level.
Make Your Content More Relevant in Search
If you are looking to update your online marketing strategy, one of the most important things to consider is making sure your content is more relevant in search engine results. This ensures that users who search for particular topics or products online can find what they're looking for quickly and easily. Additionally, having content that is relevant in search helps improve your organic rank over time, allowing you to become a leader in your industry or niche. Here are some tips on how to make your content more relevant in search engines.
First, ensure that all of the titles and descriptions for each page on your website accurately reflect the content contained within them. This will help make sure that when users search for certain topics or keywords related to what you offer, they can quickly find pertinent pages on your site.
Avoid These Common AdWords Mistakes
It's no secret that online marketing is the key to success in any business today. AdWords are a critical component of an effective online marketing strategy and can be extremely helpful for reaching potential customers. However, many businesses make common mistakes that can reduce their chances of success with AdWords. Here are some mistakes to avoid when updating your online marketing strategy with AdWords:
First, failing to track results is one of the most common mistakes business owners make when running AdWords campaigns. Failing to track and analyze data related to your campaigns will prevent you from making informed decisions regarding your strategy going forward. Pay attention to metrics such as click-through rate (CTR), cost per acquisition (CPA), and conversion rate so you can adjust accordingly.
Second, setting the wrong budget for your campaign(s) is another mistake many business owners make.
Create Processes for Regular Web Maintenance
Regular web maintenance is essential for keeping your online presence up-to-date and attractive to potential customers. Creating processes to manage this can help streamline the process, saving time and energy while allowing you to focus on other aspects of your business. An important part of this maintenance should be regularly updating your online marketing strategy.
The first step in creating a web maintenance process is making sure it works together with your current marketing plan. This includes looking into which platforms are most successful for you, such as social media, email campaigns, or search engine optimization (SEO). It's also important to analyze the analytics from each platform to identify any areas that need improvement. Once you have an understanding of what isn't working well, consider how you can adjust your strategy accordingly – whether that means introducing new campaigns or fine-tuning existing ones.
Make Your Business Happy with These Landing Page Benefits
Are you looking to update your online marketing strategy? If so, investing in a landing page could be the answer. Landing pages have become an important part of any business's online marketing strategy due to their ability to capture leads and boost sales. Here are some key benefits of having a landing page, that can make your business happy:
Firstly, landing pages help you clearly define goals for each campaign. This allows you to target specific audiences and measure success through metrics such as click-through rates and conversions. Secondly, with the right design elements and content on your landing page, it can provide visitors with an excellent user experience which will increase engagement and encourage them to take action. Finally, data from analytics tools can be used to continually optimize your campaigns for maximum performance. This makes it easier than ever before to create effective campaigns that deliver results quickly – something every business owner loves!
Learn the Art and Science of Retargeting
Retargeting is an effective online marketing strategy that can help you drive sales, increase visibility and reach new customers. It combines the art of targeted messaging with the science of data-driven decision-making to create a powerful tool for any business. But learning how to use retargeting correctly takes some effort.
To get started, update your online marketing strategy by familiarizing yourself with the basics of retargeting. Determine which platforms offer the best targeting options, such as Google Adwords or Facebook Ads, and decide on an overarching goal for each campaign. Then collect data on your website visitors by installing tracking pixels or using third-party services like Qualaroo or HotJar. Finally, use that data to create segmented audiences and target them with relevant messaging tailored to their interests and behaviors.
Implement These Marketing Automation Workflows
If you want to update your online marketing strategy, then implementing marketing automation workflows should be at the top of your list. Marketing automation is a powerful tool that can help you streamline your campaigns and get more out of them. It allows you to create customer journeys that target individual customers with the right content and messaging at the right time. This helps to build relationships and increase conversions.
It's important to understand how marketing automation works before jumping in headfirst. A workflow consists of multiple steps or triggers that are triggered when a customer takes certain actions or interacts with emails, social media posts, or other content. You can use these workflows to send personalized messages, recommend products, track data, and measure results. Additionally, automated workflows can save time by eliminating manual tasks such as creating emails or segmenting lists for targeted campaigns.
Use These Affiliate Marketing Strategies for Success During the Holidays
With the holidays quickly approaching, it's time to update your affiliate marketing strategy and take advantage of the lucrative opportunities that come with this festive season. By following a few simple tips, you can turn the holiday season into a profitable venture for your business.
To get started, consider updating your website or blog with relevant content and offers. You may also want to consider creating new banners or images that capture the spirit of the holidays while highlighting special deals or products. Make sure to use keywords in all of your messaging, as this will help drive more traffic and potential customers to your site. Additionally, don't forget about utilizing social media channels such as Facebook and Twitter. These platforms are great for connecting with current customers as well as reaching out to new audiences. Finally, experiment with different types of campaigns such as email newsletters and search engine marketing (SEM).
Boost Retention Rates with These Customer Support Hacks
Businesses must keep up with the ever-changing online marketing landscape. With the right customer support strategies, businesses can boost their retention rates and increase customer satisfaction.
Updating your online marketing strategy is an important step in retaining customers. This includes revising website design, increasing social media presence, and utilizing email campaigns to engage customers. By making sure that content is fresh and relevant, businesses can ensure they are providing their clients with value while keeping them informed of changes or updates. Additionally, by using targeted ad campaigns, companies can reach potential customers more effectively and increase brand recognition.
By staying on top of current trends in the digital world, businesses can create effective customer support strategies that will help retain customers over time and boost overall retention rates.
Avoid These Common Blogging Mistakes
When it comes to blogging, businesses need to make sure they are avoiding common mistakes that can derail their online marketing strategy. From not having a regular update schedule to not creating shareable content, there are plenty of blunders small business owners should avoid if they want to remain competitive in the ever-changing digital landscape.
Not having a regular post schedule is one of the most common blogging mistakes an organization can make. Without consistency, readers will quickly forget about your blog and move on to content from other sources. This makes it crucial for businesses to plan ahead and make sure they have enough quality content ready to go when planned updates occur. In addition, businesses should also focus on publishing posts that are tailored specifically for their target audience so as not to waste time with generic topics that don't tie into overall branding strategies or initiatives.
Maximize Your Email Marketing Strategy with These Platforms
As a business owner, you know how important it is to stay up-to-date with your online marketing strategy. One of the most effective ways to do this is by utilizing email marketing platforms. These powerful tools can help you reach potential customers, increase engagement and generate more sales. Here are some of the best platforms for maximizing your email marketing strategy:
MailChimp is great for businesses that need an affordable and easy way to design professional emails quickly. It offers a wide range of features including customizable templates, real-time analytics, targeted campaigns, and segmentation options. Additionally, MailChimp integrates seamlessly with many other software programs such as WordPress and Salesforce.
Constant Contact gives users access to detailed reporting tools, drag-and-drop design capabilities, and automated emails that help keep customers engaged over time.