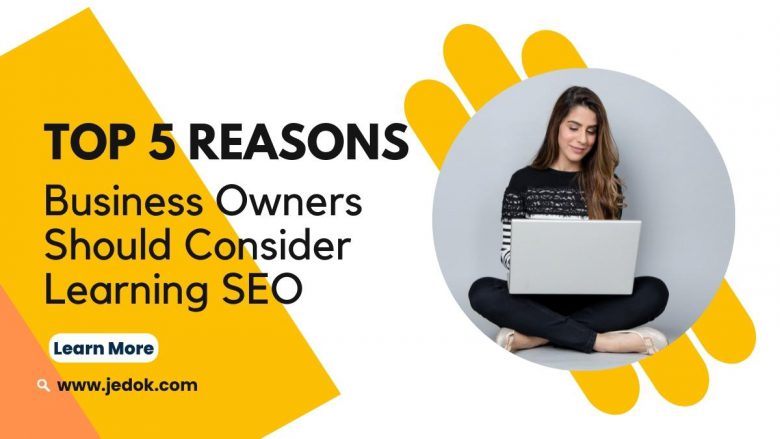 In today's digital age, it is more important than ever for business owners to understand the basics of SEO. Search engine optimization (SEO) is a powerful tool that can be used to help businesses increase their visibility on the internet and gain an edge over the competition. In this article, we will explore the top 5 reasons why business owners should consider learning SEO.
1. Quality leads and better brand recognition.
Business owners must consider the importance of learning SEO if they want to create quality leads and better brand recognition. SEO stands for search engine optimization, which means optimizing a website or blog post with keywords that will help it rank higher in organic search results. With more people using search engines to find products and services, businesses need to have an effective SEO strategy to stand out from their competitors.
An effective SEO strategy helps business owners increase their visibility online and reach potential customers who are searching online for relevant content. Taking the time to learn about keywords, backlinks, meta descriptions, and other elements of successful SEO campaigns can provide a competitive advantage for business owners looking to increase their market share. Additionally, optimizing content with targeted keywords allows websites and blogs to rank higher in search engine results pages (SERPs), resulting in greater website traffic and improved brand recognition.
2. Measurable results.
For business owners, SEO (Search Engine Optimization) should be top of mind. There are many ways to measure the results of SEO efforts, and understanding these results is essential for any successful organization. By learning more about SEO and its various components, business owners can maximize their website's visibility on search engine result pages to drive traffic to their website, increase conversions, and ultimately generate more revenue.
When it comes to achieving measurable results with SEO, there are several key elements that a business owner should consider: keyword research and strategic content optimization; link-building campaigns; improving page speed performance; mobile optimization tactics; as well as tracking and analyzing analytics data. Investing in the right tools can help a business owner keep track of their website's progress over time.
3. Saves money.
For business owners, one of the key elements to success is understanding and utilizing search engine optimization (SEO). SEO has become an increasingly important aspect of any website or online presence and learning it can pay off substantially. Knowing how to make use of SEO techniques can help businesses save money, increase visibility, and generate more leads.
One of the primary benefits that come with learning SEO is the ability to save money. Rather than having to hire a professional agency or consultant to do the work for them, business owners who have a basic understanding of SEO can often do much of the work themselves. This not only saves time but also reduces costs associated with finding and hiring someone else. Additionally, once a website utilizes effective SEO practices it may no longer need to invest in expensive marketing campaigns as its organic reach increases through organic search results.
4. Scope for greater profits.
Business owners who want to increase their profits should consider learning about search engine optimization (SEO). SEO is the practice of optimizing website content and other factors to rank as high as possible in search engine results. Learning this strategy can help business owners get more people to visit their website and, ultimately, make more money from their products or services.
Search engines are now a critical component of success for businesses of all sizes – from local stores to international conglomerates. By understanding how SEO works, business owners can effectively target potential customers by creating keyword-rich content that appears prominently in search results. This helps create greater visibility for the business, meaning more people will be likely to find it and engage with its offerings.
5. Finding a reputable tutor is key.
For business owners who have not yet taken the time to learn Search Engine Optimization (SEO), now is the time. Having a working understanding of SEO, especially for those businesses whose main source of revenue is online, can give them an edge in the ever-changing digital landscape. With the amount of competition out there, having some foundational knowledge in this area can be invaluable. While it's possible to figure out how to do things on your own, finding a reputable tutor is key.
A good tutor will be able to provide valuable insight and advice into how you can begin learning and applying SEO strategies that will help boost your search engine rankings and visibility as well as make sure your website content looks appealing and relevant for visitors.