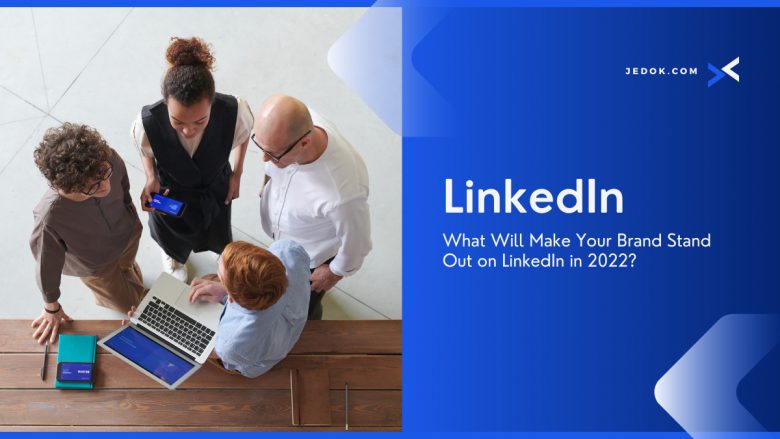 As social media continues to evolve, so too does the process of standing out from the competition on LinkedIn. As we move into 2022, there are several strategies that businesses can use to make their brand stand out and draw in potential customers. From leveraging personal connections and taking advantage of LinkedIn's various features to optimize your profile for better search engine rankings, these tips will help you make an impact on your target audience.
The top 3 prerequisites of a great LinkedIn profile
But several requirements must be met first.
Have an optimized company profile
For an organization to succeed, having an optimized company profile on LinkedIn is a prerequisite. With more than 610 million users from all over the world using this professional platform, businesses must establish their presence there. An effective and optimized company profile can increase visibility and credibility, allowing organizations to communicate with potential customers, partners, and employees on one powerful platform.
LinkedIn serves as a powerful marketing tool for companies who want to convey their brand message and promote their products or services. It also offers many features such as industry-targeted ads, analytics tools, and sponsored content that organizations can use to reach out to their target audiences in a creative way. Companies should take advantage of these features by creating engaging content that resonates with their audience and provides insights into what they offer.
Define your goals
Having a great LinkedIn profile is a prerequisite for success in the business world today. It is essential to define your goals before you start writing your profile so that you can present yourself effectively and get the results that you are looking for.
Knowing exactly what it is that you want to achieve from having an optimized LinkedIn profile will make it easier for recruiters and employers to find you and understand who you are. Putting in the extra effort to define your goals before creating your profile will help ensure that all of the content on your page accurately reflects who you are and what professional accomplishments or skillsets make up who you are as an individual.
Take some time to ask yourself questions like: What do I want my LinkedIn profile to accomplish? What sort of job am I trying to obtain? What kind of people do I need in my network?
Define your target audience
When it comes to creating a great LinkedIn profile, there is one crucial prerequisite that many people overlook— defining your target audience. Having a well-defined target audience is essential for crafting an effective profile since it helps ensure that you're connecting with the right people and promoting yourself in the most effective way possible.
Defining your target audience should be done before you make any changes to your profile. Start by identifying the types of companies and positions you'd like to work with or for, as well as any skills and experiences that would set you apart from other candidates. Then, consider what type of language will appeal to them – this can include both industry jargon and more general terms related to your field. Once you have identified specific characteristics of your ideal contacts, use these criteria as a guide when searching for relevant connections on LinkedIn.
6 strategies to help you stand out on LinkedIn in 2022
You have now caught up with the prerequisites, which is wonderful! Six tactics can help you establish a successful LinkedIn presence.
1. Create posts that are related to your niche
Standing out on LinkedIn in 2022 is a challenge that all professionals need to be prepared for. It's important to create posts that will help you stand out from the competition, as well as build relationships with other influencers and industry leaders. Here are some strategies to help you make sure your posts get noticed and give you an edge over your peers:
Focus on content related to your niche. Whether it's industry news, trends, or thought leadership pieces, by tailoring your content specifically for the audience within your field of expertise, you're more likely to get attention from people in the same space. Additionally, if someone searches for a topic related to what you've posted about, they'll be more likely to come across it due to its relevance.
Engage with other users in meaningful ways.
2. Stay consistent
Are you looking for a strategy to help you stand out on LinkedIn in 2022? Consistency is the key to success, and that's especially true when it comes to making an impact on the professional networking platform. Taking steps to stay consistent with your profile, content, and interactions will help you build a strong presence that can increase your visibility and get noticed by employers.
Staying consistent starts with creating a profile that accurately reflects who you are as a professional. This includes having a clear photo of yourself, an up-to-date headline, a LinkedIn summary, and a job experience section. Regularly updating these sections ensures your profile always looks current and relevant – two qualities employers seek when conducting research on potential hires.
3. Create videos
As LinkedIn continues to become an increasingly popular platform for professionals to showcase their skills and talents, creating videos is a strategy that can help you stand out from the crowd in 2022. Videos are becoming more prevalent on the platform, allowing users to connect with their audiences creatively and engagingly. With a thoughtful video creation process, you can create videos that will effectively showcase your expertise and demonstrate why you're the best person for the job.
When creating videos for LinkedIn, start by understanding who your target audience is and what kind of content they respond to best. Consider what type of message or narrative you want to convey through your video and whether it should include visuals or audio components. Next, plan out how much time it will take to produce the video – this includes writing scripts, recording clips, editing footage, and adding graphics or music if necessary.
4. Get a good hold of LinkedIn's three engagement methods
Are you looking for a strategy to help you stand out on LinkedIn in 2022? Knowing how to engage with your LinkedIn community is key. Fortunately, there are three methods of engagement that can help you get a good hold of your presence on the platform.
The first method is creating content that resonates with your target audience. This could include blog posts, videos, and images related to your industry or topics that interest people within it. Additionally, by regularly liking and commenting on other people's content, you are likely to increase the reach of your own profile and make connections with like-minded professionals.
The second method involves building relationships through messaging and engaging in discussions around relevant topics within groups or forums. These conversations can create opportunities for collaborations or even new business leads.
5. Let your employees be your biggest brand ambassadors
As a business leader, you want to stand out from the competition on LinkedIn in 2022. One of the best strategies for doing so is to leverage your employees as brand ambassadors for your company. By having your team members share content, build relationships, and create conversations about what makes your business unique and special, you can help elevate your presence on LinkedIn and beyond.
Encouraging employees to be ambassadors doesn't have to be a difficult task. Think beyond simple posts that promote products: give them permission to post stories related to their experiences at work or even personal ones that help others connect with them in a meaningful way. Establishing an employee-sharing policy can help guide employees while ensuring they are following all applicable social media regulations. Additionally, providing recognition when they make an impactful contribution will help keep their enthusiasm high as they advocate for the brand.
6. Use lead magnets
As the world becomes more digitalized in 2022, job seekers need to stand out on LinkedIn. One of the best strategies to help them do so is by using lead magnets. Lead magnets are pieces of content that attract potential employers, such as ebooks, cheat sheets, case studies, and webinars. By offering unique and valuable content, job seekers can differentiate themselves from other candidates and make their profiles stand out from the crowd.
Lead magnets also help job seekers demonstrate their expertise and thought leadership in their industry. By sharing these materials with recruiters or hiring managers through LinkedIn messages or posts, they can show how knowledgeable they are about a particular field or topic and prove why they are qualified for a role.